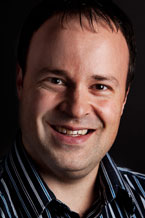 Queen's researchers receive $1.3 million in federal funding
Six Queen's researchers with projects ranging from improving treatment for Parkinson's disease, to preventing work-related injuries are receiving $1.3 million from the Canada Foundation for Innovation (CFI). "The CFI, through the Leaders Opportunity Fund (LOF), has provided us with an excellent mechanism for attracting and retaining top-flight researchers," says Vice-Principal (Research) Steven Liss. "As a result of this competition, six Queen's researchers will receive the funding required to develop innovative infrastructure that will provide the enriched research training environments necessary for leading-edge research. "
Michael Rauh (Pathology and Molecular Medicine) - Dr. Rauh will explore next-generation technologies that will allow earlier detection of blood cancer which causes debilitating and life-threatening fatigue, bleeding, infections and can progress to leukemia. The funding is being used to create a blood cancer research laboratory at Queen's.
Dr. Michael Rauh's Leaders Opportunity Fund Project, "A Translational Research Pipeline for Personalized Diagnostics in Myelodysplastic Syndromes" was for $206,000.

Posted: 2013 June 10
rauh2013june.htm